TAGLIATELLE ALLO ZAFFERANO
(SAFFRON TAGLIATELLE)
Serves 2
Ingredients marked with * are available in our product list and can be delivered to you at a minimum fee.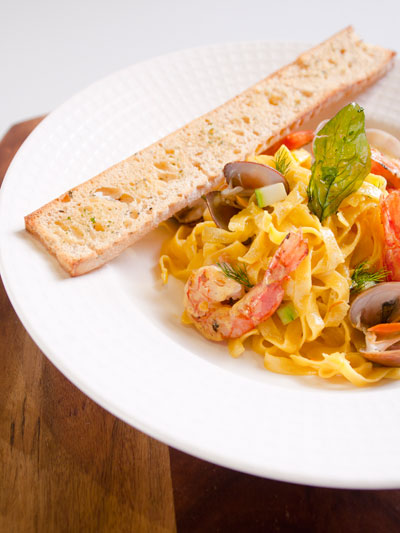 Ingredients
200g tagliatelle egg noodles (Valdigrano* brand)
200g finely chopped onions
10g finely chopped garlic
20g butter
a splash of white wine
150ml cooking cream*
100mg saffron powder*
300g Manila clams -- soak in water for 1 hour
300g shrimps
10g flat leaf parsley

Procedure
Bring to a boil a pot of water with rock salt. Normally, the ratio is 1 soup spoon of salt per 1 liter of water.
In a frying pan, melt the butter and add the chopped onions, garlic, peeled shrimps, and the clams -- previously soaked in water for 1 hour. To make sure the clams will open up, place the lid or another frying pan on top to create a steaming environment. After 1 minute, the clams should be open. Discard any unopened clams -- these were not fresh or alive before cooking.
Add a splash of white wine to the shrimps and clams and reduce the liquid to half.
Meanwhile, add the tagliatelle to the boiling pot of water and stir frequently.
To the frying pan, add the cooking cream and saffron powder. Bring to a boil and simmer for 5 minutes. Season with salt and pepper. Reduce until sauce is thick.
Once the pasta is cooked, drain and add it straight to the sauce that is still in the pan. Add the chopped parsley and stir the pasta into the sauce until nicely mixed. Serve hot, right away!
Buon appetito!